Harley Service, Harley Repairs, Harley Parts, Harley Tires, Harley Tune-ups, Harley Cam Kits, Paint, Chrome, Harley Engine Kits, Harley Frames, Aftermarket & Custom Parts, Mild To Wild! Customizing Stock Harleys For Decades Including New Harleys.
Parts Have To Be Ordered Well In Advance!
Covid Lag Sucks!
Book Your Work Now To Be Sure We Can Have Your Parts!
CALL SCHEDULE YOUR WORK NOW!
Motorcycle Insurance Claim Work Specialists!
Great 6 page spread in issue 391 of American Iron Magazine! Unfortunately it's only available in digital format that I can see due to production stoppage from covid etc. But a super big honor to be chosen for a national magazine! https://www.aimag.com/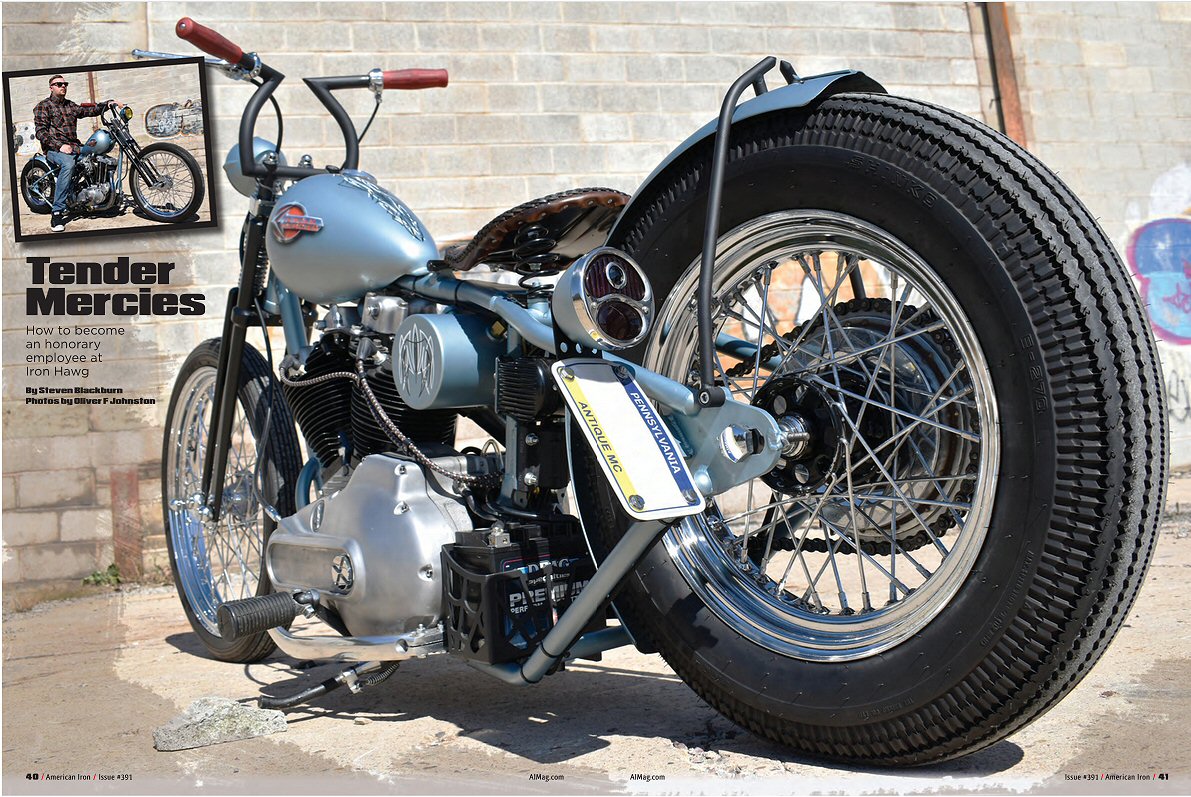 *Follow Our Builds & More On

InstaGram & FaceBook Wicked Trike, Bagger, Bobbers, Board Track Racer Builds!
Custom Bobber Builders - Custom Harley Bobber Builders - Hard Tailing Frames, Harley Sportster Frames


"Blitzkrieg Custom Bobber"

"Flying Aces" Custom Bobber

"Tender Mercies" Custom Bobber

"Bare Metal Jacket" Custom Bobber
Custom Motorcycle Part Fabrication

*

Hard Tailing Frames - Harley Sportster Frames - Harley Neck Mods - We Can Hard Tail Anything!

Frame, Neck, Front, Rear End Modifications

Custom Motorcycle Shifters & Controls Fabrication

Custom Motorcycle Handlebars Fabrication

Custom Motorcycle Tanks & Fenders
Hydro Graphics! Our Paint & Graphics Shop Just Went Beyond Wild!
Our Legendary Paint Wizard Jeff Zapatocky and his wife started a business all their own,
Check Out GrassHopper Hydrographics!

If It Can Get Wet, It Can Get Dipped!

Jeff and Sandy Zapatocky did some sick demo pieces with the new hydrographics setup. Just imagine the custom touch we can give your bike now!

What sets us apart is what others won't tell you, like,

You MUST have real prep, paint, clear, finish and all the other skills a true paint and graphics shop has To Have Hydrographics Done Right!

GrassHopper Hydrographics Working With The Iron Hawg Paint & Graphics Team, Has the Decades Of Skills Needed To Do The Job Right!
Think about that Before you Trust anyone else...

Check Out Grasshopper Hydrographics On FaceBook!

Custom Tattoo Experience

Angelo Rodriguez - Tattoo Artist - Body Piercing
570-401-2211
168 Susquehanna Blvd. West Hazleton, Pennsylvania 18202
Check Us Out On:

Custom Motorcycle Parts Fabrication Shop - Custom Motorcycle Part Fabrication and Modification - Motorcycle Frames and Necks, Custom Exhausts, Gas Tanks, Custom Handle Bars, Custom Controls, Mounts, Seats and Pans and more.

EBAY PARTS DEALS!

Custom Motorcycle Parts By Iron Hawg! - Iron Hawg Lists Some Wicked Deals On Many After Market Parts. Unadvertised Specials, Tires, Chrome, Parts, More!
Booking Work NOW! FAST!

Get Your Ride Ready Now!


Be Ready To Ride When The Sun Shines, Instead Of Hearing Everyone Else Going By...
Custom Motorcycle Builders, Iron Hawg Custom Cycles Inc. has been building custom motorcycles for decades.
Builds To Fit Nearly Any Budget. Award Winning Innovation & Design.
Did You Know We Offer; Extended warranty service, Insurance Claims, Accident repair, Hi-performance engine upgrades, Routine maintenance, complete engine and drive-line rebuilds, custom paint, custom Fabrication, powder-coating service, restorations, Inspections, complete builds, and much more.
Full Frame Up Builds To Custom Modifications, Iron Hawg Custom Cycles Inc. Has You Covered With Highly Trained, Hands On Techs, Fabricators, Builders That Make Sure It Is Done Right The First Time.
Modifying Harleys For Decades - Bikes Done Right! The First Time!
Custom Motorcycle Builders Iron Hawg Custom Cycles - Baggers - Bobbers - Choppers - Long Bikes - Trikes - Harley Restoration - Harley Engine Rebuilding - Frame Mods & Tweaks - Custom Metal Work - Custom and Stretched Tanks, Fenders, Bars, Paint, Powder Coat, Chrome.
From Mild to Wild, Ground Up Custom Builds To Custom Modifications, After-Market Parts And Custom Fabrication.
Contact us with your project, we will be glad to talk with you.
A Tribute To Our Crew Raising Hell In Heaven
Dream It...We'll Build It... Iron Hawg
ph. 570.455.7988 - Iron Hawg Custom Cycles Inc. - 640 W. 15th St. Hazleton, PA 18201
Home - About - PA Resources - Copyright 2022